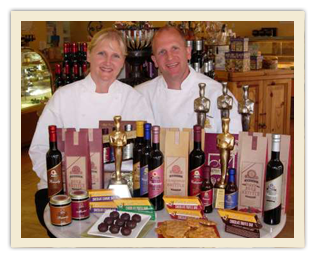 Brent and Anette have worked together for over 19 years creating award winning confections, truffles and sauces. Anette's recipes have been handed down and perfected over the past 70 years while others are novel and incorporate the newest of concepts with the tradition of quality and craft. Anette's has won numerous awards for their creations.
Read our story on The Chocolate Review's maker of the month feature.
Please visit one of our 2 shops, both located in Napa, 5 blocks from one another. In our Main shop (our Factory/Retail) you may view the candy kitchen from large display windows and smell an array aromas wafting if from the kitchen. In addition to all the confectionery decadence pictured here on our web site, we also make and serve homemade ice creams and espresso drinks at this factory location. We have indoor and outdoor seating.
Our 2nd (smaller) shop is located inside the Oxbow Public Market. This market offers an array of culinary delights: organic vegetables, fine wines, cheeses, meats, fish, restaurants and, of course, chocolate from Anette's Chocolates.