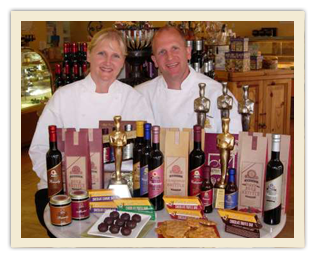 Brent and Anette have worked together for over 27 years creating award winning confections, truffles and chocolate sauces. Brent, the Master Chocolatier, creates wonderful Artisan pieces using recipes that have been handed down and perfected over the past 70 years and others that are uniquely his. Anette's Chocolates has won numerous awards for their creations.
Read our story on The Chocolate Review's maker of the month feature.
Please visit one of our 2 shops, both located in Napa, 5 blocks from one another. Our larger shop, the original, has all of our truffles, brittles, chocolates you see on our web site plus specialties not available on our web site. Additionally, this location serves our fabulous homemade ice cream and espresso drinks. Indoor and outdoor seating available -- Address: 1321 First St.
Our 2nd (smaller) shop is located inside the Oxbow Public Market. This bustling artisan market offers an array of culinary delights: organic vegetables, fine wines, cheeses, meats, fish, restaurants and, of course, Anette's chocolates, brittles and Sauces. -- Address: 1st ST. Oxbow Public Market